P521 Evaluation of adalimumab effectiveness in paediatric patients with ulcerative colitis in clinical practice
S. Steiner1*, C. Liu2, E. King2, E. Israel3, B. Pasternak4, M. Schaefer5, S. Chen2, J. Pratt2, A. Lazar6, M. Bereswill6, A. Robinson7, R. Colletti8, ImproveCareNow Network9
1Indiana University School of Medicine, Indianapolis, USA, 2Cincinnati Children's Hospital Medical Center, Cincinnati, USA, 3Massachusetts General Hospital for Children, Boston, USA, 4Phoenix Children's Hospital, Phoenix, USA, 5Penn State Children's Hospital, Hershey, USA, 6Abbvie Deutschland GmbH & Co. KG, Ludwigshafen, Germany, 7AbbVie, North Chicago, USA, 8University of Vermont Children's Hospital, Burlington, USA, 9ImproveCareNow, Burlington, USA
Background
Adalimumab (ADA) is an anti-tumour necrosis factor agent approved for the treatment of ulcerative colitis (UC) in adults. We assessed the duration and effectiveness of ADA in paediatric UC patients in clinical practice.
Methods
In a retrospective cohort study using registry data from 47 centres in the USA in the ImproveCareNow network, patients with UC treated with ADA prior to 18 years old with at least one follow-up visit were identified. Clinical care and frequency of visits were decided by the patient, parent, and clinician. Data from clinical care visits were assessed every 3 ± 1.5 months for 1 year, then every 6 ± 3 months through 3 years. If a patient had no visit during that period but was still active in the registry, the result from the previous visit was carried forward (for up to 9 months). The analysis population consisted of patients still on ADA at the respective visit after imputation. Patients' data were excluded from analyses after a colectomy. Steroid-free clinical remission rates per Physician Global Assessment (PGA, inactive) and Pediatric Ulcerative Colitis Activity Index (PUCAI, <10) were assessed. Descriptive statistics, Kaplan–Meier analysis for colectomy rate, and Fisher's exact test for associations between concomitant therapy and outcomes were performed.
Results
One hundred and thirty-three UC patients (24% <13 years old at therapy onset; 58% female) received ADA between August 2008 and November 2016 (Table 1). At months 3, 6, 12, 24, and 36 post-initiation, 130, 119, 76, 34, and 16 patients were followed; 89%, 78%, 80%, 97%, and 75% of followed patients remained on ADA. Of patients on ADA at 3, 6, 12, 24, and 36 months: 37%, 57%, 68%, 71%, and 73% were in steroid-free clinical remission by PGA; and 30%, 45%, 63%, 68%, and 82% by PUCAI.
Table percentages are calculated based on non-missing values.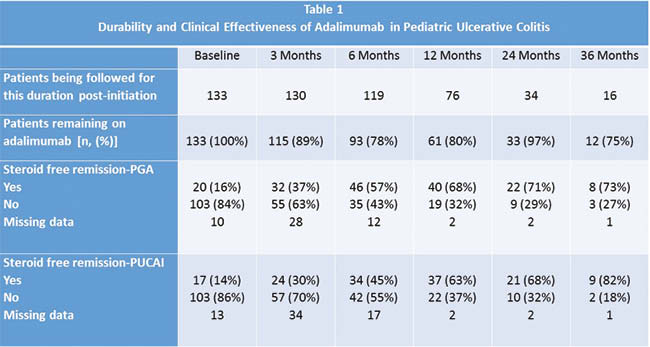 The probability of remaining colectomy-free at 3, 6, 12, 24, and 36 months was 97%, 94%, 86%, 80%, and 70%. 14 hospitalisations occurred in eight patients, and five serious infections occurred in five patients. Concomitant immunomodulator therapy did not appear to improve outcomes.
Conclusion
Durable rates of steroid-free remission were observed in paediatric patients with UC on ADA in routine practice. Of patients followed for 24 months, 97% of patients remained on ADA and approximately 70% of patients were in steroid-free clinical remission. 80% of patients remained colectomy-free for 24 months.