P725 A prospective study of planned switch from Infliximab originator remicade to biosimilar inflectra: a multi-centre Irish experience
N. McGettigan*1, C. Mc Shane2, O. Mc Carthy1, A. Keogh1, D. Kevans2, E. Slattery1
1Galway University Hospital, Gastroenterology, Galway, Ireland, 2St James Hospital, Gastroenterology, Dublin, Ireland
Background
Infliximab (IFX) biosimilars were approved in 2013 by the EMA. Since then, studies have shown the efficacy of IFX biosimilars appear similar to Remicade when patients are switched. The main reason for switch to bio-similar is the associated cost reduction with recent reports of cost savings up to 69%. Our aim was to prospectively assess the efficacy, safety and patient satisfaction when patients were switched from Remicade to Inflectra.
Methods
This is an open-label, non-inferiority, prospective cohort study from two Tertiary Irish hospitals involving patients with IBD >18 years receiving Remicade who were switched to Inflectra between October 2017 and August 2018. Data were collected at intervals of 3 months. Patient CRP, faecal calprotectin, IFX trough levels and antibodies (Abs) to IFX were collected.
Results
74 patients were included in the study. Sixty-nine per cent (n = 51) had Crohn's disease. Fifty-seven per cent (n = 42) were male. Mean values for CRP at 3 monthly intervals starting 6 months prior to switching are 8.6 (CI: 0.08, 17.09), 4.3 (CI: 2.6, 6.1), 4.4 (CI: 2.9, 5.8), 5.9 (CI: 1.7, 10.2), respectively, and 3.1 (CI: 1.7, 4.4) at 6 months post switch for Centre 1. Student T-test comparing pre and post switch CRP was insignificant (p = 0.475), that is, showing no significant change. There was no difference in IFX levels pre and post switch (p = 0.72) and no new clinically significant Abs were detected. There were no crisis IBD admissions and no infusion reactions.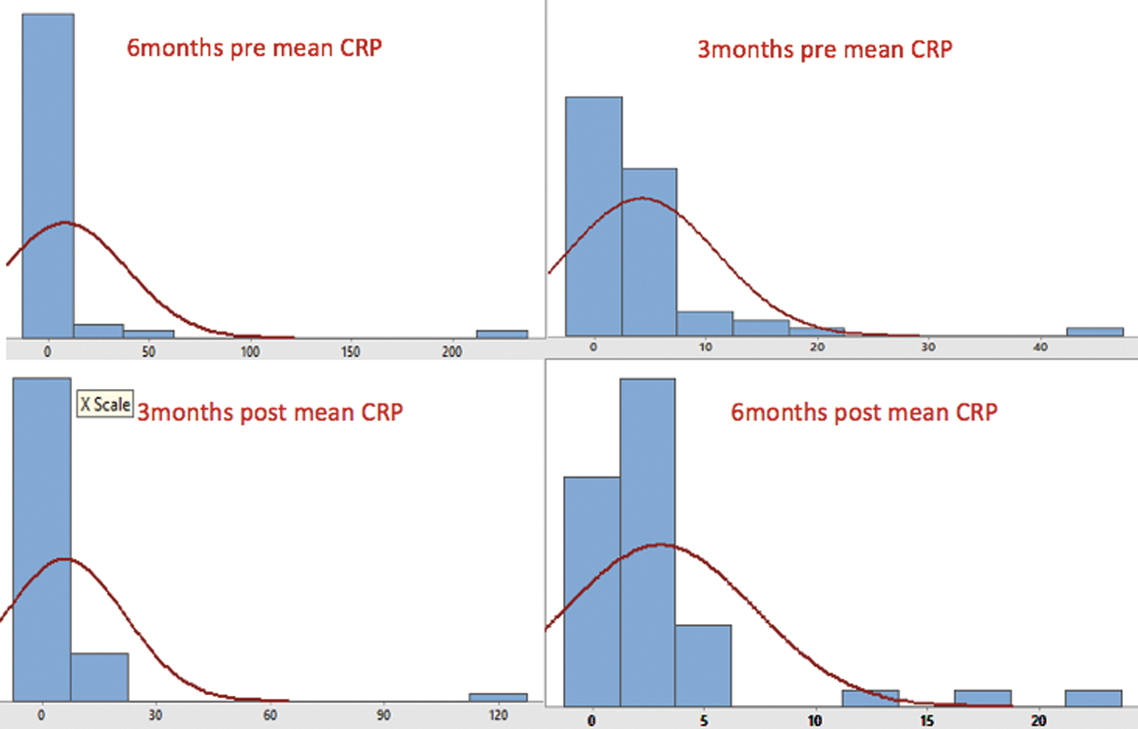 Mean CRP Pre and Post switch
Conclusion
Our study demonstrates the efficacy of switching to biosimilar without concern regarding safety or immunogenicity. There was no change in clinical remission rates following the switch. The majority of patients remained on Inflectra at 6 months and the switch resulted in a significant cost reduction. We aim to collect further 6 and 12 month data prior to the congress.