P747 A sharp increase of using biologics for IBD in Israel: a population- based report from the epiIIRN database
Y. Chowers1, N. Asayag*2, N. Dan3, G. Focht3, R. Balicer4, E. Zittan4, E. Matz5, I. Brufman4, B. Feldman4, A. Cahan6, N. Lederman7, I. Dotan4, E. Israeli8, D. Turner3
1Department of Gastroenterology, Rambam Health Care Campus, Haifa, Israel; Bruce Rappaport School of Medicine, Technion Israel Institute of Technology, Haifa, Israel., Haifa, Israel, 2Shaare Zedek Medical Center, The Juliet Keidan Institute of Paediatric Gastroenterology and Nutrition, Jerusalem, Israel, 3Shaare Zedek Medical Center, Jerusalem, Jerusalem, Israel, 4Clalit Research Institute, Chief's Office, Clalit Health Services, Tel Aviv, Israel, Tel Aviv, Israel, 56 Leumit Health Services, Tel Aviv, Israel, Tel Aviv, Israel, 6Maccabi Healthcare Services, Tel Aviv, Israel, Tel Aviv, Israel, 7Meuhedet Health Services, Tel Aviv, Israel, Tel Aviv, Israel, 8Institute of Gastroenterology and Liver Diseases, Hadassah Medical Center, Hebrew University, Jerusalem, Israel, Jerusalem, Israel
Background
The advent of biologics for inflammatory bowel diseases (IBD) has revolutionised the treatment of IBD over the last 15 years but the magnitude of their long-term effect is still unclear. Nevertheless, biologics use has been steadily increasing with their associated cost. We, thus, aimed to explore trends of use of biologics in all IBD patients in Israel for basing administrative planning of treatment algorithms.
Methods
IBD patients were identified within the epiIIRN database, a validated database of all IBD patients registered during 2005–2016 in 3 of 4 Israeli national health maintenance organisations (HMOs), covering 89% of the Israeli population. The identification of Crohn's disease (CD) and ulcerative colitis (UC) as well as date of diagnosis utilised previously validated algorithms. For incidence, we calculated the number of newly diagnosed IBD patients that commenced biologics within the first year of diagnosis.
Results
As of 2016, there were 3333/36569 (9.1%) IBD patients treated with biologics and 7002/36569 (19.1%) ever treated with biologics. The use of biologics steadily and sharply increased among adults both in CD and UC (figure): from 280/8558 (3.3%) and 15/9735 (0.2%) in 2005 to 3640/18300 (19.9%) and 844/16830 (5%) in 2016 (p < 0.001),, respectively. The corresponding rates in children with CD and UC increased from 51/727 (7%) and 0/318 (0%) in 2005, to 366/969 (38%) and 80/531 (15%) in 2016. In 2016 adalimumab was used for CD in 63% of patients, infliximab in 29%, vedolizumab in 4.9% and others 3.1%. The corresponding figures for UC were infliximab 39%, adalimumab 30%, vedolizumab 29% and others 2%. The rate of patients who were commenced on biologics during the first year of diagnosis also sharply increased and continues to rise. In CD from 4.1% in 2005 through 8.6% in 2010, 11.8% in 2013 and 22.4% in 2016. In UC, the corresponding rates were 0.1%, 1.8%, 4.8% and 5.2%.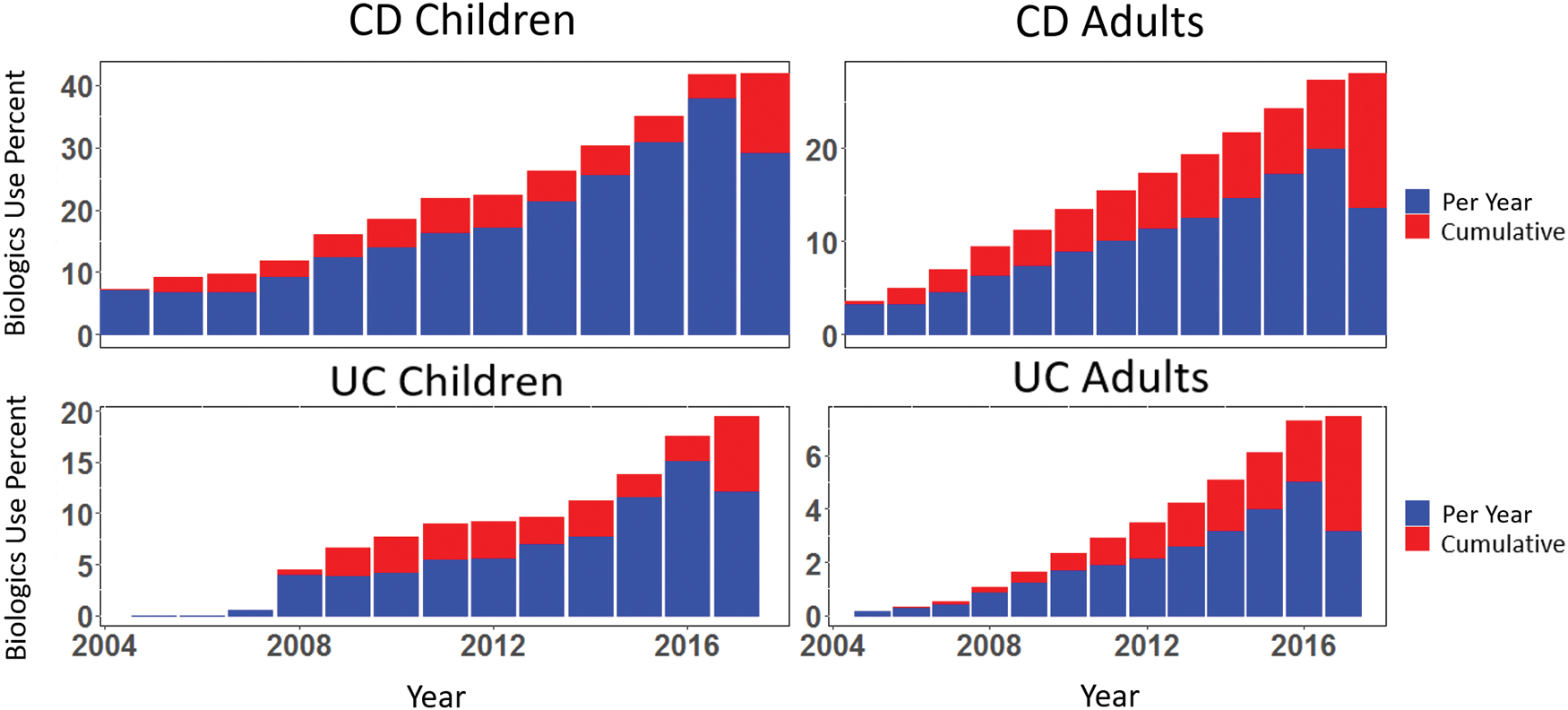 The Increase In The Use Of Biologics In Israel 2004–2017
Conclusion
The use of biologics continues to increases sharply in all IBD populations in Israel and the time to introduction shortens. Convincing data showing that this trend changes the natural history of the disease and in which patients are badly needed. This study was supported by a grant from the Leona M. and Harry B. Helmsley Charitable Trust.