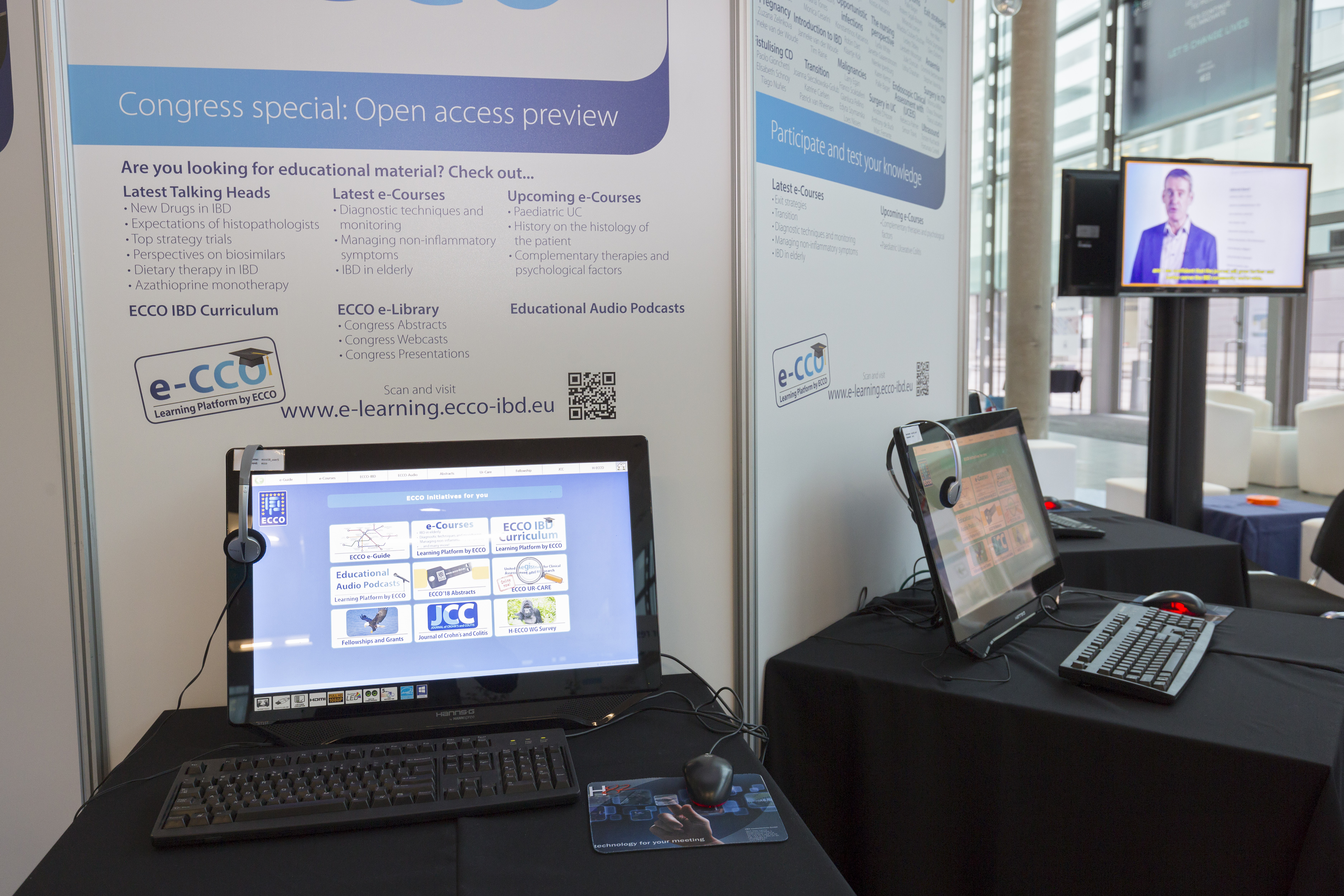 e-Terminals
Discover the ECCO Initiatives listed below at one of the computer terminals at the ECCO Booth. The ECCO Office Team onsite will gladly assist you and answer your questions.
ECCO Donations
Get your ECCO Collector's items at the ECCO Booth with a donation for Doctors without Borders 
ECCO Quality Standards of Care
ECCO developed a list of criteria summarising current quality standards of care in IBD. Check them out here!
Discover the programme
Check out the Scientific and Educational programmes on the new ECCO Website.
ECCO IBD App
The world of ECCO in your pocket. Live the full Congress experience!
e-Library
Check out the brand new ECCO e-Library experience! Enjoy open access onsite!
ECCO'20 Abstracts
The top abstracts submitted to this year's Congress for your review onsite!
ECCO e-Guide 2.0
Open access to an updated collection of algorithms based on the latest ECCO Guidelines and to newly integrated IBD calculators
Fellowships and Grants
Fund your innovative scientific research with ECCO's Fellowships and Grants! Deadline: June 3, 2020.
Journal of Crohn's and Colitis
Have a look through the JCC's Top Trending articles and ECCO Papers! Enjoy open access onsite!
UR-CARE
The IBD Database for your patient records and your research studies.
ECCO'20 Webcasts
Missed an excellent presentation? Find the webcasts on the ECCO On-Demand Website (open for ECCO Members only)
Educational Audio Podcasts
Opinions of recognised experts on specialised topics in IBD
Skills Videos
Skills Videos provide ECCO Members with practical tips and tricks on performing IBD related procedures. Enjoy open access onsite!