P115 Real-world experience of peri-operative treatments on surgical complications after Ileo-caecal resection in Crohn's disease
S. Di Stefano1,2, C. Liefferinckx3, A. Cremer3, L. Amininejad3, A. Van Gossum3, J. Devière3, J. Van de Stadt4, D. Franchimont3, A. Buggenhout4
1Hôpital Erasme, Department of Gastroenterelogy, Brussels, Belgium, 2The Pancreas Institute. University of Verona. G.B. Rossi University, Gastroenterology and Digestive Endoscopy Unit, Verona, Italy, 3Hôpital Erasme, Gastroenterelogy, Brussels, Belgium, 4Hôpital Erasme, Clinic of Colorectal Surgery – Department of Digestive Surgery, Brussels, Belgium
Background
The current recommendations remain vague as to whether biologics are safe or deleterious when surgery is contemplated in patients with Crohn's disease (CD). Conflicting data do not enable to adopt a definitive position on the time to surgery. The aims of this study were to evaluate the impact of perioperative treatments on the rate of surgical complications and to report surgical recurrence rate of CD after ileo-caecal (IC) resection.
Methods
This was a retrospective monocentric cohort study of consecutive CD patients who underwent IC resection between 1996 and 2018. An ethical committee has been approved (P2019/376). The overall rate of surgical complications was evaluated within 30 days after surgery. The effect of pre- and postoperative treatments was assessed on overall morbidity, general and infectious complications, anastomotic leakage and risk factors. Statistical analyses were performed using SPSS.
Results
Demographic data of the 165 CD patients who underwent a primary IC resection are presented in Table 1.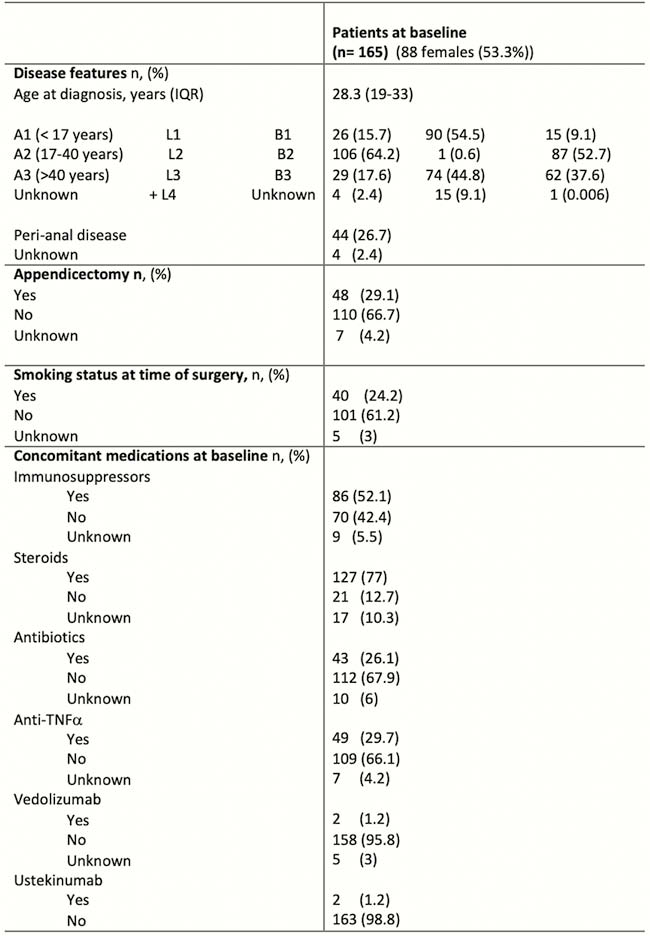 The median age at time of the first IC resection was 35 years (IQR 24–44) while the median follow-up was 6.1 years (IQR 1–11). The overall rate of complications was 18% including 8.7% and 3.3% patients with infectious complications and anastomotic leakage, respectively. No risk factors have been found to be associated with surgical complications. In particular, immunosuppressants and biologics did not increase the risk of surgical complications. Twenty-four per cent of patients (n = 39/160) needed a second IC resection due to stenosis at the anastomosis site in 69.2% of cases (n = 27/39). Surgical recurrence was found to increase linearly over time with a second surgery after a median follow-up of 8 years (IQR 2–12). Anti-TNF used as post-operative treatment had a protective role on surgical recurrence in multivariable regression with odd ration (OR) of 0.15, p = 0.001 (Table 2).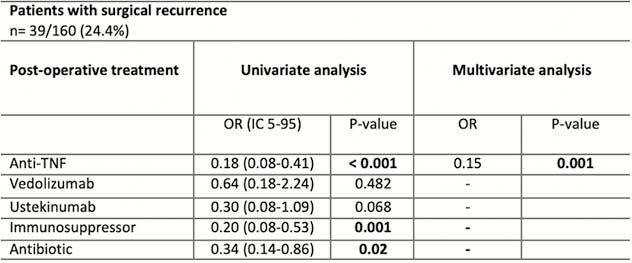 Conclusion
Prevalence of complications after an IC resection in CD patients was of 18% in this retrospective monocentric cohort. No risk factors were found to be associated with surgical complications. Anti-TNF seems to have a protective role on surgical recurrence.