ECCO CONFER Cases
COllaborative Network For Exceptionally Rare case reports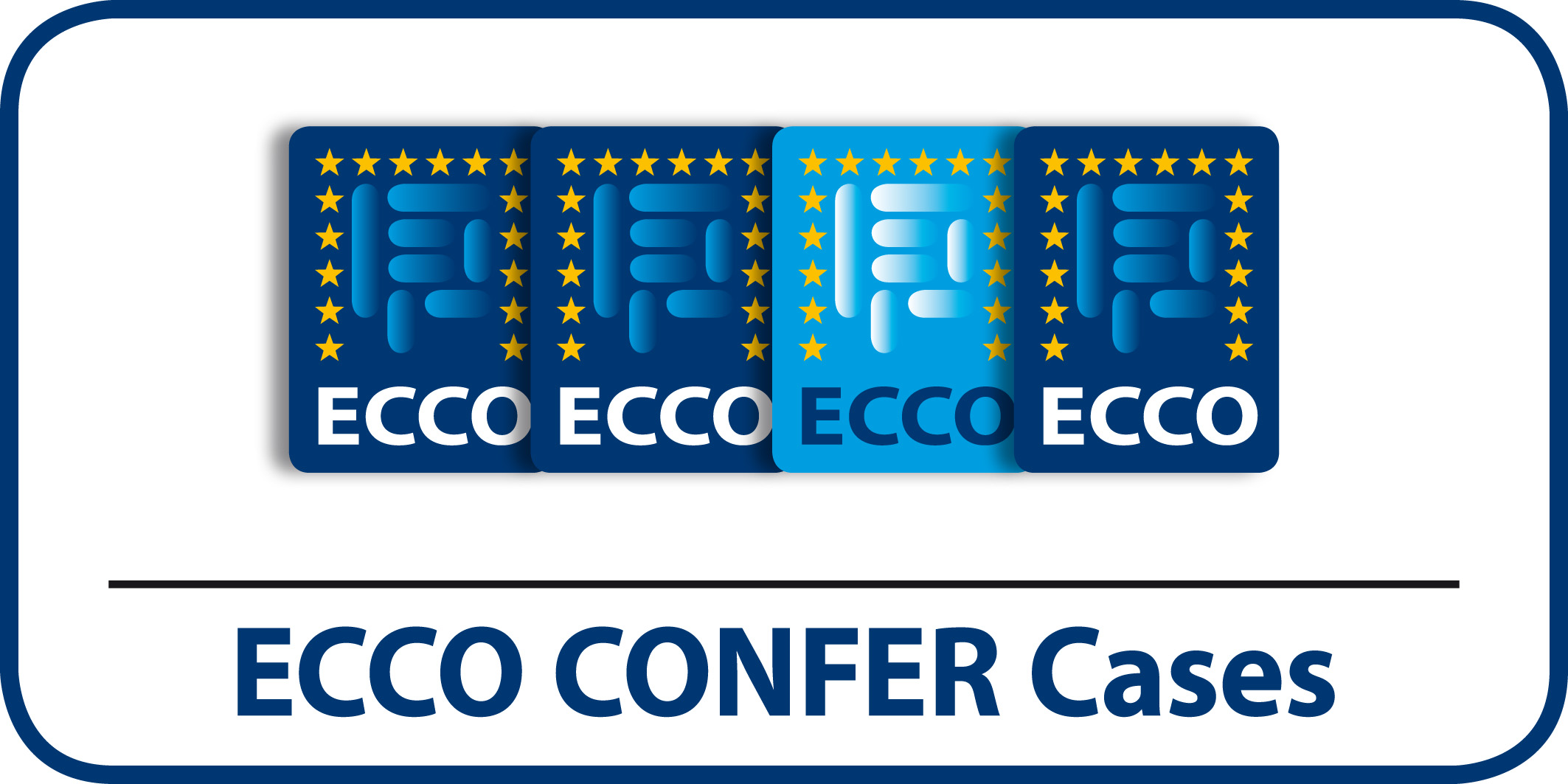 ECCO CONFER Cases Round 5 - Call for similar cases:
Case 1:

Extranodal intestinal lymphoma in IBD

(independent of treatment regimen)

Case 2:

Orofacial granulomatosis in Crohn's Disease

Case 3:

New onset spondyloarthropathy in IBD patients treated with vedolizumab

Case 4:

Central nervous system vasculitis in IBD
Deadline for reporting similar cases: May 6, 2019.
Please report your cases by sending an email to the ECCO Office (This email address is being protected from spambots. You need JavaScript enabled to view it.)
If the call proves the projects feasible by minimal number of similar cases available, transformation of the cases by the Principal Investigator and the CONFER Case Manager into standardised data-entry format (CRF) will next be performed. The CRFs will then be shared with the potential contributors who reported a similar case.
IRB Approval for ECCO CONFER Cases

IRB Approval for ECCO CONFER Cases
About
Unique and extraordinary clinical cases are generally reported in the form of a single case report or a small series, making it hard to derive clinical conclusions on modes of presentation, diagnosis, and treatment.
What is ECCO CONFER Cases?
ECCO CONFER Cases is an initiative to continuously identify, assemble, and report rare IBD cases of clinical relevance. By joining forces of the many members and supporters of ECCO, a joint report of all similar such cases can result in a large case series that will advance our knowledge on these uncommon patients.
How it operates
A call will be made once a year to all ECCO Members to propose CONFER case projects. Cases should correspond to 5 main themes of interest:
Unusual clinical situations facing diagnostic or therapeutic gaps of knowledge
Rare infections
Uncommon drug beneficial effects or side-effects
Rare IBD manifestations
Infrequent disease associations (neoplastic, infectious etc.)
Two to four cases will be selected by the CONFER steering committee.
The proposing investigator will act as PI and develop his/her case into a CONFER case project with the steering committee.
A call will then be made to all ECCO Members and affiliates who have encountered a similar case to contribute their case to the CONFER case series.
All received cases will be joined into a case series by a PI and prepared for publication.
Steering committee
ECCO CONFER is managed by a four-member steering committee. The current steering committee is composed of:
Uri Kopylov (Israel)
Pierre Ellul (Malta)
Konstantinos Karmiris (Greece)
Shaji Sebastian (United Kingdom)
Publication and authorship
All contributing investigators will be acknowledged as co-authors. The PI and the CONFER Steering Committee member who developed each case project and its publication will be the first and last author, respectively.
As per an ECCO Governing Board decision, submission to JCC would take precedence, unless a very high impact journal is deemed appropriate for publication. In case of publication in another journal with restricted number of authors: All contributing investigators will be acknowledged as collaborating authors, and the 10 who contributed most patients will be acknowledged as co-authors. When equal contributions occur, authorship status will be determined by temporal precedence in case contribution.