P144 Vitamin C deficiency in inflammatory bowel disease: the forgotten micronutrient
K. Dunleavy MB BCh BAO1, R. Ungaro2, L. Manning2, J. Novak3, S. Gold2, J.F. Colombel2
1Icahn School of Medicine at Mount Sinai, Department of Medicine, New York, USA, 2Icahn School of Medicine at Mount Sinai, Division of Gastroenterology, New York, USA, 3Emory University School of Medicine, Division of Digestive Diseases, Atlanta, USA
Background
Micronutrient deficiencies are common in patients with inflammatory bowel disease (IBD). To date, the majority of the literature has focused on vitamin D, vitamin B12, and iron deficiencies. We report a case series of patients with IBD and vitamin C deficiency.
Methods
We performed a retrospective chart review of 20 patients with IBD who had vitamin C deficiency (defined as a level ≤0.2 mg/dl) treated in a single tertiary care centre from February 2018 to October 2019. Demographics as well as disease characteristics and laboratory data were collected. In addition, data from routine nutritional assessments, performed by a nutritionist, were also included.
Results
Of these 20 patients, 11 (55%) were female with a median age of 27.5 years. Fifteen (75%) had Crohn's disease (CD) and 5 (25%) had Ulcerative colitis (UC). Ten (50%) had been diagnosed with IBD within the last 3 years, and 10 (50%) had a duration of disease >5 years. Disease location was L1 ileal in 6 (30%) patients, L2 colonic in 5 (25%) and L3 ileocolonic in 9 (45%); behaviour was B1 non-stricturing, non-penetrating in 10 (50%) patients, B2 stricturing in 7 (35%) and B3 penetrating in 3 (15%). Nine (45%) patients had previous history of surgery. At the time of the study, 13 (87%, N=15) CD patients had a Harvey–Bradshaw Index >5, and 3 (60%, N = 5) UC patients had a Partial Mayo Score 5–7, indicating active disease. Overall, 14 (70%) patients were on biologic therapy. Sixteen (80%) patients had symptoms consistent with clinical scurvy, including 9 (45%) arthralgia, 6 (30%) dry brittle hair with hair loss, 4 (20%) pigmented rash, 3 (15%) gingivitis, 2 (10%) easy bruising and 1 (5%) brittle nails. Six (32%) had 3 or more of these clinical manifestations. Of those who underwent a nutrition evaluation (N = 18), 10 (56%) reported avoidance of all fruits and vegetables and 3 (17%) reported a reduction of fruits and vegetables in their diet.
While all patients experienced vitamin C deficiency, some also had concomitant vitamin D, vitamin B12, iron and ferritin deficiencies (Table 1).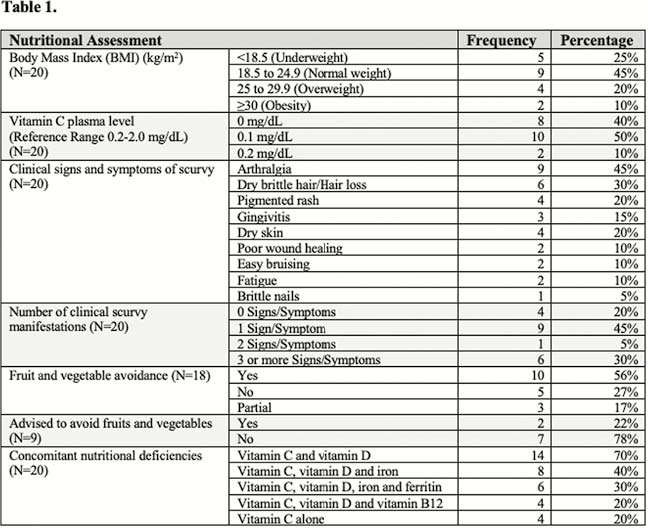 Conclusion
Vitamin C deficiency can occur in IBD patients and is associated with clinical symptoms of scurvy. Prospective studies are needed to evaluate prevalence of vitamin C deficiency in IBD and its ultimate impact on clinical outcomes. Meanwhile this study emphasises the need for appropriate dietary counselling in patients with IBD.