P258 Impact of inflammatory bowel diseases on the phenotype and severity of primary sclerosing cholangitis - a systematic review with meta-analysis
Attauabi, M.(1,2,3);Wewer, M.D.(1,3);Bendtsen, F.(1,3);Seidelin, J.B.(2);Burisch, J.(1,3);
(1)Copenhagen University Hospital- Hvidovre, Gastrounit- Medical Section, Hvidovre, Denmark;(2)Herlev Hospital- University of Copenhagen, Department of Gastroenterology and Hepatology, Herlev, Denmark;(3)University of Copenhagen- Hvidovre Hospital, Copenhagen Center for Inflammatory Bowel Disease in Children- Adolescents and Adults, Hvidovre, Denmark;
Background
Data regarding the impact of co-occurring inflammatory bowel diseases (IBD) on the phenotype and severity of primary sclerosing cholangitis (PSC) are emerging. The purpose of our study was to characterize the phenotype and disease course of PSC in relation to co-occurring IBD.
Methods
The purpose of our study was to characterize the phenotype and disease course of PSC in relation to co-occurring IBD. The systematic review and meta-analysis were conducted according to Cochrane's recommendations. PubMed and EMBASE were searched from database inception till January 2020 for studies reporting disease phenotype and severity of PSC in association with co-occurrence of IBD. Meta-analyses were performed using a random-effects model. The quality of the studies was assessed by the Newcastle-Ottawa Scale (NOS).
Results
The electronic search yielded 12,220 studies which were narrowed down to 132 after screening based on study titles and abstracts. Of these, a full-text review identified 42 eligible studies, including a total of 8,081 and 5,728 patients with PSC and with or without co-occurring IBD, respectively (Figure 1). The mean NOS score was 6.4 ad included 23 (54.8%) and 18 (42.9%) studies of moderate and high methodological quality, respectively.
The meta-analysis demonstrated that co-occurrence of IBD was associated with significantly less frequent involvement of the extra-hepatic ducts (risk ratio (RR)=0.50 (95% CI 0.33-0.75), p<0.01, I2=0%) as compared with patients without co-occurring IBD. However, IBD-PSC and PSC without IBD had similar rate of small-duct PSC, histologic stages of PSC, risk of developing cirrhosis, and features of decompensation. Furthermore, in comparison to patients with isolated PSC, co-occurring IBD was associated with an increased overall risk of malignancies (RR=1.53 (95% CI 1.01-2.32), p=0.04, I2=46%), which was ascribed to colorectal cancers (RR=4.77 (95% CI 2.50-9.09), p<0.01, I2=0%) and not cholangiocarcinomas (RR=0.88 (95% CI 0.59-1.31), p=0.54, I2=31%), gallbladder cancers (RR=2.28 (95% CI 0.39-13.21), p=0.36, I2=0%), or hepatocellular carcinomas (RR=4.49 (95% CI 0.57-35.46), p=0.15, I2=0%). Regarding long-term PSC outcomes, having IBD was not associated with the need of liver transplantation (RR=0.84 (95% CI 0.50-1.41), p=0.52, I2=60%) or mortality (RR=0.74 (95% CI 0.37-1.50), p=0.40, I2=37%), but was associated with a longer liver transplantation-free survival (hazard ratio = 0.70 (95% CI 0.60-0.82), p<0.01, I2=5%).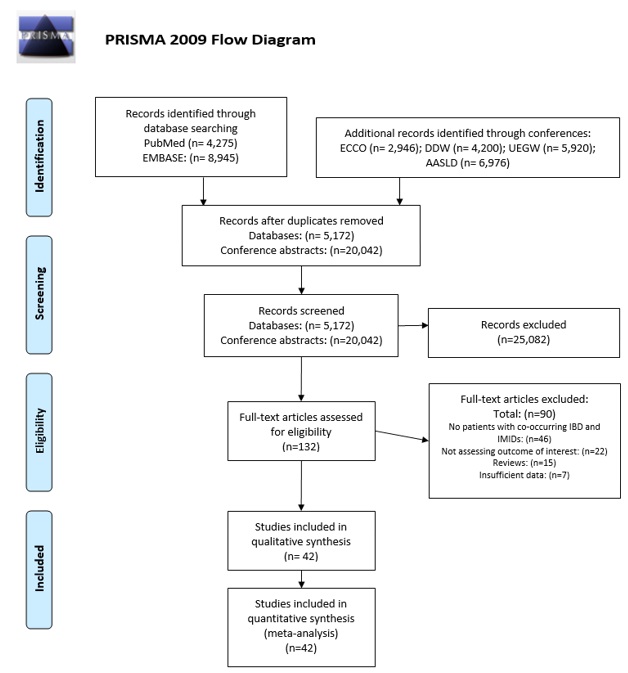 Conclusion
This systematic review with meta-analysis suggests that IBD is associated with a distinct phenotype and course of PSC, thus emphasizing the importance of a multidisciplinary approach to patients with co-occurring PSC and IBD.