P642 Effects of Covid-19 on employment in IBD patients
Sciberras, M.(1);Nascimento, C.(2);Tabone, T.(1);Karmiris, K.(3);Nikolaou, P.(3);Theodoropoulou, A.(3);Mula, A.(1);Goren, I.(4);Yanai, H.(4);Amir, H.(4);Mantzaris, G.(5);Georgiadi, T.(5);Foteinogiannopoulou, K.(6);Koutroubakis, I.(6);Allocca, M.(7);Fiorino, G.(7);Furfaro, F.(7);Katsanos, K.H.(8);Fousekis, F.(8);Michalopoulos, G.(9);Torres, J.(2);Ellul, P.(1);
(1)Mater Dei Hospital, Department of Gastroenterology, Msida, Malta;(2)Hospital Beatriz Ângelo, Department of Gastroenterology, Loures, Portugal;(3)Venizeleio General Hospital, Department of Gastroenterology, Heraklion- Crete, Greece;(4)Rabin Medical Center, Department of Gastroenterology, Petah Tikva, Israel;(5)Evangelismos Hospital, Department of gastroenterology, Athens, Greece;(6)University Hospital Heraklion, Department of Gastroenterology, Heraklion- Crete, Greece;(7)Humanitas, Department of Gastroenterology, Milan, Italy;(8)University of Ioannina, Department of Gastroenterology, Ioannina, Greece;(9)Tzaneio General Hospital of Piraeus, Department of Gastroenterology, Piraeus, Greece
Background
There is an ongoing concern over the impact of COVID-19 on IBD patients. A significant proportion of IBD patients are treated with immunosuppressive medications and their effects on COVID-19 susceptibility and outcomes remain of concern to patients and physicians alike. Apart from the clinical outcome, the pandemic may have other psychosocial effects on this vulnerable cohort such as employment stability.

The primary aim of this study was to analyze the percentage of COVID-19 patients who tested themselves for COVID-19 and the outcome of those who tested positive. A secondary aim was to assess their employment status.

Methods
This was a multicentre international study whereby IBD patients (>18 years) in clinical remission over the last year, were asked to answer an anonymous questionnaire. Demographic data, type of IBD, current and previous medication, admissions to hospital, were collected.
Exclusion criteria included patients with IBD flares requiring corticosteroids in the previous 12 months.
Results

573 patients (CD: 55.5%) from 8 European Centres and Israel participated in the study. The mean patient age was 39.9 years (SD+/- 13.0). 21.6% were current smokers and 48.5% were non-smokers. The rest were ex-smokers.

44.5% (n=255 ) of patients were tested for Covid-19 and 5.1% (n=13) were positive. The majority were treated at home (92.3%) with only one patient requiring hospital admission. This was a 33 year old female smoker with UC (E3 disease activity) on anti-TNF therapy. 66.7% of positive cases were on anti-TNF medication and 22.2% were on thiopurines. None of the positive cases were on dual antiTNF/thiopurine therapy. 7.2% of patients had family members who also tested positive for Covid-19.
Almost half of all patients (45.2%) had their job affected during the pandemic and this was more prevalent in the UC cohort (P<0.05). 70% of patients switched to remote work from home and 21.4% became unemployed. The average age of patients becoming unemployed was 39.3years (SD+/- 11.9).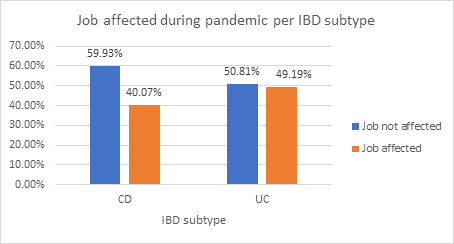 Conclusion
Nearly half of our cohort (45.2%) underwent testing and the majority (92.3%) were treated at home even though two thirds of them were on Anti-TNF medication. Unemployment rates affected 1 in 5 individuals and measures promoting remote work have been taken up wisely by IBD patients. Though the clinical outcomes were excellent, the psychological effects of unemployment have yet to be considered.