P645 Mental health, work presenteeism and exercise in IBD patients
Sciberras, M.(1);Nascimento, C.(2);Tabone, T.(1);Karmiris, K.(3);Nikolaou, P.(3);Theodoropoulou, A.(3);Mula, A.(1);Goren, I.(4);Yanai, H.(4);Amir, H.(4);Mantzaris, G.(5);Georgiadi, T.(5);Foteinogiannopoulou, K.(6);Koutroubakis, I.(6);Allocca, M.(7);Fiorino, G.(7);Furfaro, F.(7);Katsanos, K.H.(8);Fousekis, F.(8);Michalopoulos, G.(9);Torres, J.(2);Ellul, P.(1);
(1)Mater Dei Hospital, Department of Gastroenterology, Msida, Malta;(2)Hospital Beatriz Angelo, Department of Gastroenterology, Loures, Portugal;(3)Venizeleio General Hospital, Department of Gastroenterology, Heraklion- Crete, Greece;(4)Rabin Medical Centre, Department of Gastroenterology, Petah Tikva, Israel;(5)Evangelismos Hospital, Department of Gastroenterology, Athena, Greece;(6)University Hospital Heraklion, Department of Gastroenterology, Heraklion- Crete, Greece;(7)Humanitas, Department of Gastroenterology, Milan, Italy;(8)University of Ioannina, Department of Gastroenterology, Ioannina, Greece;(9)General Hospital Piraeus, Department of Gastroenterology, Piraeus, Greece
Background
IBD has been shown to increase the rates of anxiety and depression amongst diagnosed individuals, with a prevalence rate of approximately 15- 20%. Chronic diseases such as IBD can have a significant impact on productivity at work (presenteeism). This can lead to emotional distress, poor quality of life and cost effects on employers. The primary aim of the study was to assess the prevalence of psychological problems, exercise levels and presenteeism at work among IBD patients.
Methods
This was a multicentre international study whereby IBD patients (>18 years) in clinical remission over the last year, were asked to answer an anonymous questionnaire. Demographic data, type of IBD, current and previous medication, admissions to hospital, history of psychiatric referrals, Stanford Presenteeism Scale (SPS-6), Godin Score (exercise related score) were collected.
Exclusion criteria included patients with IBD flares requiring corticosteroids in the previous 12 months.
Results
573 patients (CD: n=318) from 8 European Centres and Israel participated in the study. The mean patient age was 39.9 years (SD+/- 13.0). 21.6% were smokers and 48.5% were non-smokers. The rest were ex-smokers.

10.9% of patients had a diagnosis of depression/anxiety prior to the diagnosis of IBD, whereas this increased to 20.6% post-IBD diagnosis, this being significantly commoner in the CD cohort (23.0%, p<0.05) and in females (55.8%, p<0.05). 37.7% of patients had been to a psychiatrist or a psychologist (41% of CD, p<0.05) with 11.7% of patients being on psychiatric medication (14.5% of CD, p<0.05).
Low presenteeism at work was evident in 34.7%, with no statistically significant difference between UC and CD patients (p=0.5). 39.9% had a Godin Exercise Score being in the active range, 38.8% had a sedentary/insufficient exercise score. The rest were moderately active. Patients diagnosed with depression/anxiety had a more sedentary lifestyle.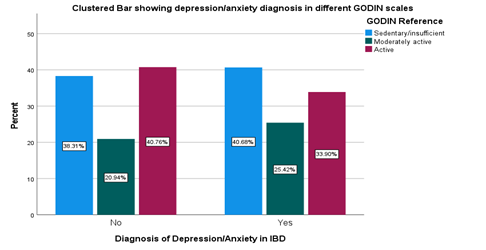 Conclusion
In our study 37.7% of patients were referred for psychological help. This can have several effects including poor presenteeism at work (34.7%) and reduced efficiency. These issues are commoner in patients with CD than in UC. Active involvement of a psychologist/ psychiatrist as part of the IBD team should be routine as to improve the patient's quality of life.