ECCO'18 – Come to Vienna for IBD!
The 13th Congress of ECCO in Vienna is coming closer and so is the late registration deadline. Benefit from the late registration fee by registering up until January 31, 2018 (after this date the onsite registration fees will apply).
Educational Programme at ECCO'18
Educational activities at the 13th Congress of ECCO will be held from Wednesday, February 14, 2018 to Saturday, February 17, 2018. The educational programme covers activities for ECCO's different interest groups, including young gastroenterologists, surgeons, paediatricians, histopathologists, dietitians, IBD nurses and allied health professionals and scientists. An overview of these activities can be found below. For the detailed final programme, please refer to www.ecco-ibd.eu/ecco18. Please note that some of these courses/workshops will run in parallel to the scientific programme and that some will have a limited capacity – please register by January 31, 2018.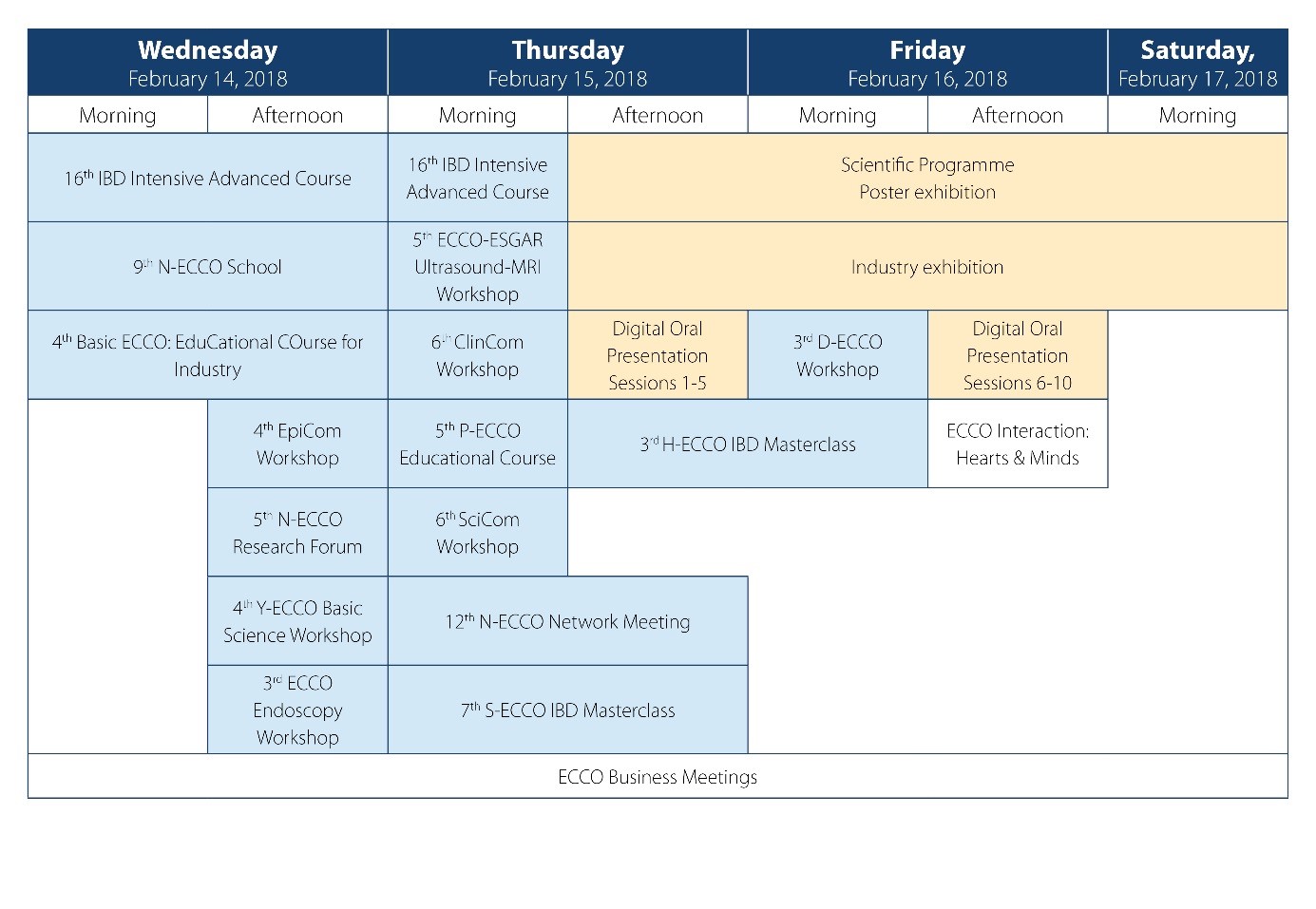 Look out for our digital oral presentations!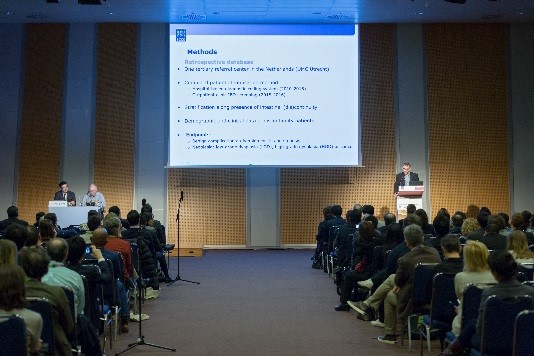 DOPs at ECCO'17, Barcelona

© ECCO
The 38 best abstracts will receive an oral presentation slot in the scientific programme of the 13th Congress of ECCO.
The next best 90 abstracts will be digital oral presentations, with a 5-minute oral presentation on either Thursday, February 15, 2018 from 17:30 to 18:30 or on Friday, February 17, 2016 from 17:20 to 18:20. The presentations will be split over two days, which will give you the chance to attend more presentations!
The remaining accepted abstracts will be displayed as hard copy posters throughout the Congress. Please do join our stimulating Guided Poster Session on Friday, February 16, 2018 during the lunch break.
For further information, please refer to www.ecco-ibd.eu/ecco18.


Come and try the IBD database designed for daily care and research projects!
We are thrilled to present something new at the Congress that will certainly catch your attention: located next to the registration's and the congress bags distribution's areas, you will find a very particular space: the UR-CARE Training Centre.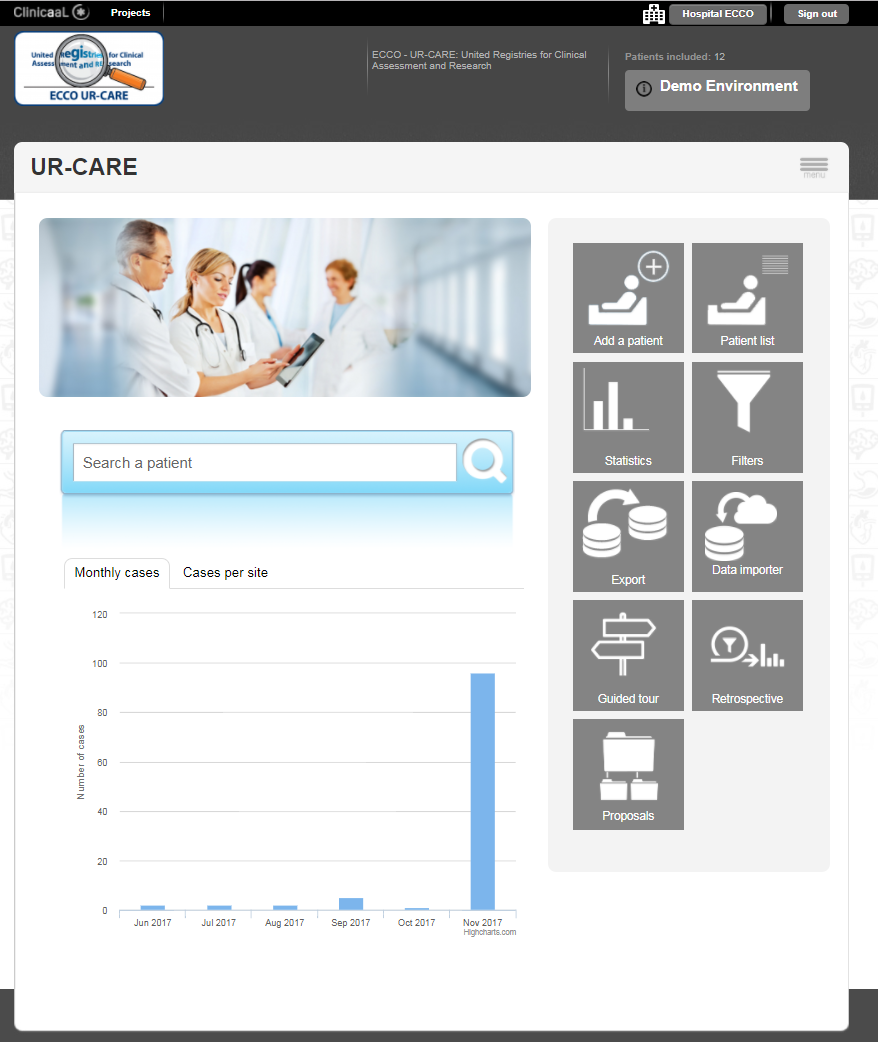 UR-CARE Database © ECCO
If you have followed the latest news on ECCO's projects, you have most likely already heard about UR-CARE (the United Registries for Clinical Assessment and Research). UR-CARE is one of the key projects of IBDIM – IBD in Motion GmbH – the research unit of ECCO. This IBD European digital platform has been especially designed for the daily clinical care provided by the local hospitals as well as the research projects of national or multicentre study groups. More information on the platform as well as a demo version (opened to all) can be found on the UR-CARE website: www.ecco-ibd.eu/ur-care
Of course, the use of such a platform always comes with the need to find out more about it and to get replies to multiple questions. This is why in February 2018, you will have the possibility to test the database thanks to one of the 5 computer stations at your disposal in the UR-CARE Training Centre and to ask your question to a dedicated team.
Do not miss this great opportunity to know more about UR-CARE! We look forward to meeting you at the UR-CARE Training Centre!
What's in store for ECCO Members at the ECCO Congress?
ECCO Members attending the 13th Congress of ECCO will enjoy a number of highly valuable privileges:
Special registration privileges:
Payment of reduced registration fees, with a saving of EUR 300.- to 400.-
Access to the educational programme (only for Members)
Onsite privileges:
Members' Lounge at ECCO'17 Barcelona © ECCO
General Assembly of ECCO Members
Thursday, February 15, 2018, 20:00–21:00
Strauss Rooms 1–2 at Messe Wien
The Annual General Assembly of ECCO Members is ECCO's highest deliberative body and the embodiment of one of the association's most elementary member privileges: the right to vote and help form ECCO's future.


ECCO Members' Lounge
ECCO Members have the possibility of enjoying an informal atmosphere with their peers. Meet ECCO Officers and network with colleagues in our lounge, located in the exhibition hall of Messe Wien.


ECCO Congress bags 2018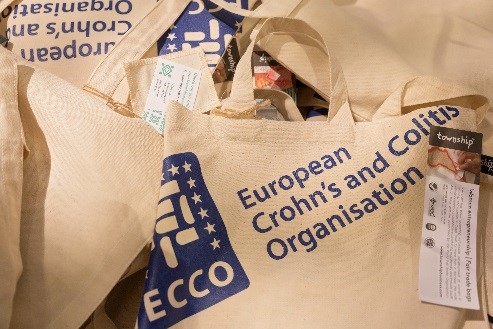 Congress bags ECCO'17 Barcelona © ECCO
As in past years, our ECCO Congress bags will be produced by Township Patterns®, a company supporting women's entrepreneurship in township communities outside Cape Town, South Africa. Hence, the ECCO Congress bags are more than just a stylish accessory – they are a means of improving the lives of the African women who produce them in their own sewing cooperatives.
Congress bag special: Every ECCO Congress bag will include a copy of JCC – Journal of Crohn's and Colitis Issue 1/2018. Please do not forget to pick up your Congress bag!


ECCO Interaction: Hearts and Minds
"ECCO Interaction: Hearts and Minds" is THE event at ECCO to see and be seen, to network and engage. Anyone who has been to a previous ECCO Congress knows that it is a must. Everyone is welcome, but places are limited.
Date: Friday, February 16, 2018
Start time: 20:00
Venue: Hofburg Wien, Hofburg
Heldenplatz, 1010 Vienna
This event is open to all Congress delegates. The price of an entrance ticket purchased in advance is EUR 50.- for ECCO Members and EUR 95.- for Non-Members. Please be informed that a three-course buffet dinner is included in the entrance fee.
Tickets can be purchased during the online congress registration at www.ecco-ibd.eu/ecco18. Access to the event is strictly limited to those with ECCO Interaction tickets.