UC the bigger picture: introducing JAK1 in practice within a patient-centric approach
An innovative Galapagos-sponsored symposium at ECCO'22
This interactive event brought together leading experts to explore the value of holistic, multidisciplinary care for patients with Inflammatory Bowel Disease (IBD) and discuss the use of the preferential Janus kinase 1 (JAK1) inhibitor Jyseleca®▼ (filgotinib) for moderate to severe Ulcerative Colitis (UC). Built to be audience led, attendees voted for the data and perspectives they most wanted to hear.
This exciting session showcases:
Nine expert faculty

Two real-world case examples

Audience-guided content

Practice-focussed discussion
Introducing JAK1 in practice within a patient-centric approach

Ulcerative Colitis is associated with extensive patient burden and an impaired quality of life (QoL), but a patient-centric approach to UC management, combined with the effective integration of treatment options, can help prevent complications.1 In this interactive symposium, nine expert faculty give their perspectives on incorporating multidisciplinary team support and shared decision making into patient care and explore how filgotinib, a JAK1 preferential inhibitor, approved for moderate to severe UC in late 2021, can best be used in practice as part of a patient-centric approach.
A new perspective: a patient's experience of communication with healthcare professionals
"Patients often feel that nobody understands them … even
healthcare professionals, to some extent, don't, because
they don't know what it's like to actually live with IBD" 
 – Kay Greveson, IBD Nurse and patient
Setting the scene for a patient-centric approach, Séverine Vermeire is joined by Kay Greveson, an experienced specialist IBD nurse who was diagnosed with IBD when she was 13 years old. Ms. Greveson shares her unique perspective on how best to personalise the level of information and guidance provided to patients, and how to help patients manage work, social relationships and sexual health.
• Shared decision-making is valued by patients and is key to defining goals for care, which can differ between patients and physicians2,3 
Implementing shared decision-making enhances patient care, improving adherence and QoL.2 A key aspect of shared decision-making involves healthcare providers identifying how involved a patient wants to be in making decisions related to their care (what decision-making role they want to take) and determining which decisions will benefit from shared input in order to provide the best patient-centred support.2 Recognising a patient's shared decision making profile can help providers interact optimally with their patients.4
• Many patients with UC in clinical remission still live with significant burden5
Ulcerative Colitis can have an impact on wide-ranging aspects of a patient's life. It is important that a patient feels comfortable enough to discuss more personal issues, such as sexual function.6 Early investigation of sexual dysfunction in patients with UC through the use of open questions and validated scales will allow a multidisciplinary approach, with the aim of improving the QoL of patients.6
• Clear communication is important in enabling patient-centric UC management in the workplace7
Patients with more severe, active disease and a history of hospitalisation in the past year have higher information needs, especially around domains of work disability, coping with stress and therapy complications.8 Providing patient-centric support to people with UC goes beyond symptom management and it must consider broader social, policy and environmental challenges related to employment.7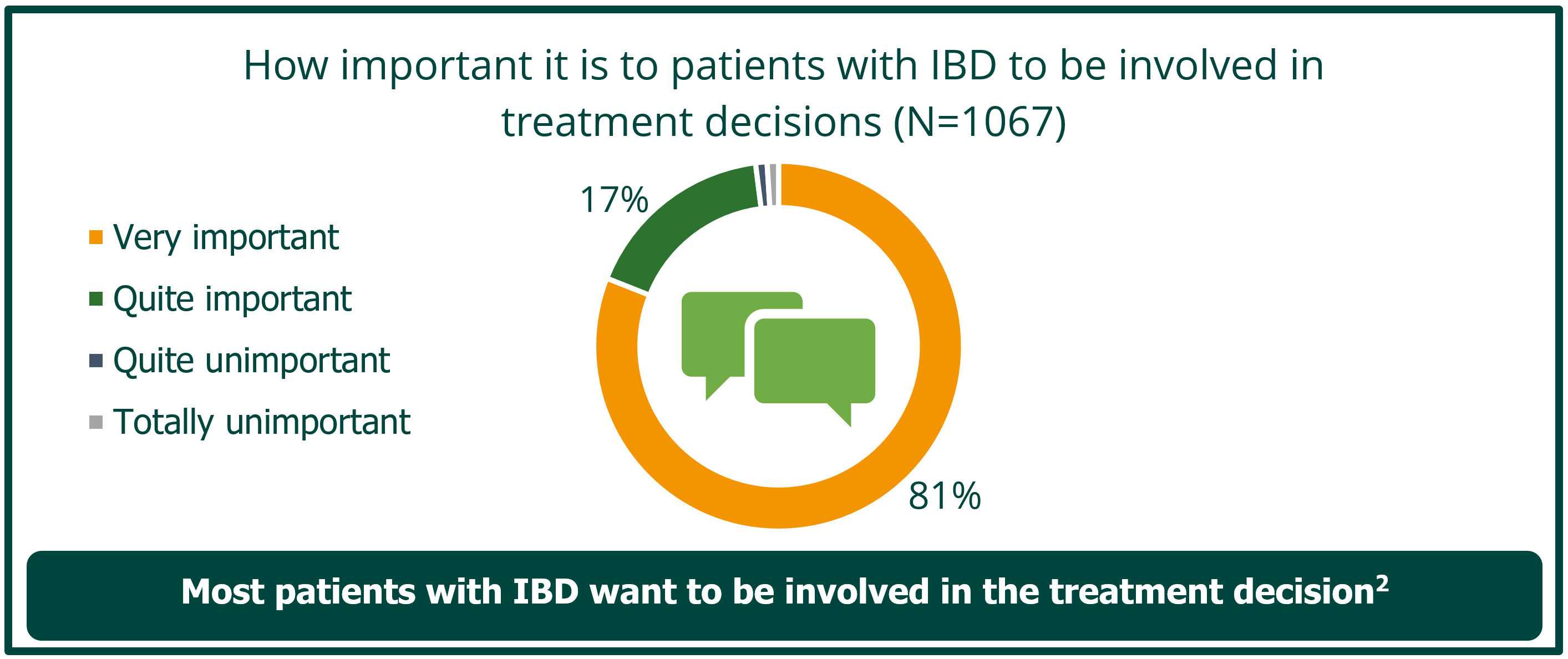 IBD, Inflammatory Bowel Disease, Adapted from Siegel et al. 2012.
An all-star cast: multidisciplinary insights on a challenging case
The second part of this symposium brings together colleagues from the Rabin Medical Center, Israel to discuss how they would approach a real patient case of difficult-to-treat UC.
In this session, Iris Dotan showcases how her team's holistic approach could help to minimise disease and treatment burden, align with the patient's personal goals and improve overall QoL. Attendees vote on which specialists they would be most interested in involving in this type of case, and we hear perspectives from:
IBD Nurse Revital Bar

kan

, who explains how the use of visual aids can help identify gaps in patients' knowledge about their journey with UC. Educational materials and tools, such as the IBD Disk, help patients understand their disease and help healthcare providers understand their patients.9
Dietitian Lihi Godny, who presents on the potential benefits of the Mediterranean diet for patients with UC. Nutritional guidance and a Mediterranean diet can help lower levels of inflammatory markers and promote a beneficial microbial composition.10
Gastroenterologist Hagar Banai, who outlines the

advantages of intestinal ultrasound as a non invasive

monitoring tool.

Colonic wall thickness can be used to discriminate between active and inactive UC and to monitor disease response over time. Intestinal ultrasound is a well-tolerated, non invasive tool that may be preferred by some patients.11
"[The patient] has been experiencing depression, disbelief, distress.
All of these cause low adherence to treatment and contribute to her
low quality of life. In her case, intestinal ultrasound can be used not 
only as a … monitoring tool, but also … to engage her to her
treatment by giving her real-time visual information about her
disease, demonstrating the response to treatment, empowering her
and giving her more sense of control "
 – Hagar Banai, Gastroenterologist
New on the scene: preferential JAK1 inhibition in practice
Patients are also at the centre of the final presentation, from Gionata Fiorino, who undertakes a case-based exploration of the practical considerations related to the introduction of filgotinib, an oral JAK1 preferential inhibitor, in the management of moderate to severe UC.
The European Commission has approved an additional indication for Jyseleca®▼ (filgotinib), an oral, once-daily, JAK1 preferential inhibitor, for adult patients with moderately to severely active UC who have had an inadequate response with, lost response to, or were intolerant to either conventional therapy or a biologic agent12
This session introduces 68-year-old 'Rosa', a real patient of Gionata Fiorino, who was diagnosed with UC in 2012. Rosa's main treatment goal is to be well enough to be able to take care of her nephews, without constant interruptions from UC. Rosa is anxious to avoid steroids and needles, and she also wants to minimise the amount of time she has to spend in the hospital. Rosa was entered into induction study A of the Phase II/IIIb SELECTION trial in 2017, and she was randomised to receive filgotinib 200 mg.
The SELECTION clinical trial
Filgotinib as induction and maintenance therapy for Ulcerative Colitis (SELECTION): a phase 2b/3 double-blind, randomised, placebo-controlled trial13
Filgotinib received approval based on the results of the Phase IIb/III SELECTION clinical trial in patients with moderately to severely active UC (N=659).13
In the SELECTION trial, treatment with filgotinib 200 mg for up to 58 weeks was efficacious for the induction and maintenance of clinical remission in both biologic-naïve and biologic-experienced patients.13
Improvements in stool frequency and rectal bleeding subscores were observed as early as the first week of therapy with filgotinib 200 mg compared with placebo in patients with moderately to severely active UC.14
Filgotinib was well tolerated at both 200 mg and 100 mg in the SELECTION clinical trial, with no evidence of dose- dependent toxicity.13
Rates of adverse events, serious adverse events and adverse events of interest were similar between patients receiving filgotinib or placebo.13
The recommended dose of filgotinib is 200 mg. For full dosing information, refer to the Summary of Product Characteristics.12
Gionata Fiorino discusses key data from the SELECTION trial of filgotinib in UC in the context of Rosa's individual experience and explores the practicalities of using filgotinib in clinical practice with patients like Rosa, for whom it may be an appropriate option to help them achieve their holistic treatment goals.
In the second part of his presentation, Gionata Fiorino invites the audience to vote on which new filgotinib data released at ECCO'22 they would like to hear about.
Options given to the audience include insights on:
Opportunities for ambitious assessment of holistic disease control by means of assessing an exploratory composite endpoint including QoL
The restoration of QoL is key for patients with IBD. However, QoL outcomes are not typically assessed alongside conventional measures of remission,15 and patients in remission still experience a substantial impact on their QoL.16 This post hoc analysis assessed the impact of treatment with filgotinib 200 mg using a combined endpoint (CE) comprising clinical, biological and health-related QoL remission, as well as endoscopic improvement. Treatment with filgotinib 200 mg over 58 weeks in the maintenance cohort resulted in a significantly higher likelihood of achieving the CE vs placebo (22.1% vs 7.14%, p=0.002). Importantly, achievement of the CE was associated with clinically meaningful improvements in patients' overall QoL.15
Combined endpoint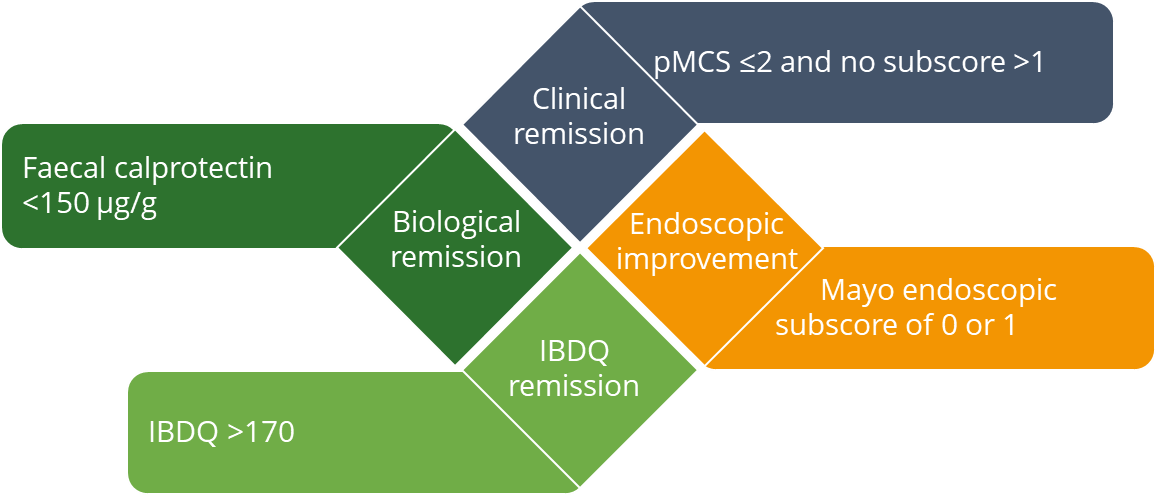 IBDQ, Inflammatory Bowel Disease Questionnaire; pMCS, partial Mayo Clinic score.

The durable efficacy and consistent safety profile of filgotinib in the SELECTION long-term extension (LTE) trial17
Long-term remission is a key goal for patients with UC.1 An interim analysis of the SELECTION LTE found that filgotinib 200 mg was effective in maintaining long-term improvements in UC symptoms and health-related QoL for up to 96 weeks.17
Use of filgotinib in patients over 60 years of age18
The prevalence of IBD in patients aged over 65 years is increasing.19 In a post hoc analysis of the SELECTION and SELECTION LTE trials in adult patients aged 18–75 years, filgotinib was efficacious in inducing and maintaining symptomatic remission in patients with UC, regardless of age.18 Incidences of malignancies, non-melanoma skin cancer and major adverse cardiovascular events were increased in patients over 60 years compared with other age groups. Most of the events were associated with the presence of comorbidities/other risk factors and deemed not to be related to study drug.18 No dose adjustment is recommended for patients with UC up to 75 years of age. Filgotinib is not recommended in patients aged 75 years and older as there are no data in this population.12
Conclusion
This impactful symposium empowers attendees to understand their patients' priorities, reinforces the value of holistic multidisciplinary care and outlines the use of the preferential JAK1 inhibitor filgotinib for moderate to severe UC.
Disclaimer: This programme is not affiliated with ECCO.
References
Danese S, Allez M, van Bodegraven Ad A, et al. Unmet medical needs in ulcerative colitis: An Expert Group Consensus. Dig Dis. 2019;37:266–83.
Siegel CA. Shared decision making in inflammatory bowel disease: Helping patients understand the tradeoffs between treatment options. Gut. 2012;61:459–65.
Baars JE, Markus T, Kuipers EJ, van der Woude CJ. Patients' preferences regarding shared decision making in the treatment of inflammatory bowel disease: Results from a patient-empowerment study. Digestion. 2010;81:113–19.
Haimowitz S, Ruiz-Cordell K, Joubin K, Sih-Meynier R. A multi-level assessment of shared decision making: An evaluation of clinician and patient attitudes and behaviors and the identification of predictive profiles. Cogent Med. 2020;7:1786986.
Armuzzi A, Liguori G. Quality of life in patients with moderate to severe ulcerative colitis and the impact of treatment: A narrative review. Dig Liver Dis. 2021;53:803–8.
Perez de Arce E, Quera R, Barros JR, Sassak LY. Sexual dysfunction in inflammatory bowel disease: What the specialist should know and ask. Int J Gen Med. 2021;14:2003–15.
Cheng L, Jetha A, Cordeaux E, Lee K, Gignac MAM. Workplace challenges, supports, and accommodations for people with inflammatory bowel disease: a scoping review. Disabil Rehabil. 2021;doi:10.1080/09638288.2021.1979662 [Epub ahead of print].
Daher S, Khoury T, Benson A, et al. Inflammatory bowel disease patient profiles are related to specific information needs: A nationwide survey. World J Gastroenterol. 2019;25:4246–60.
Ghosh S, Louis E, Beaugerie L, et al. Development of the IBD disk: A visual self-administered tool for assessing disability in inflammatory bowel diseases. Inflamm Bowel Dis. 2017;23:333–40.
Godny L, Reshef L, Pfefer Gik T, et al. Adherence to the Mediterranean diet is associated with decreased fecal calprotectin in patients with ulcerative colitis after pouch surgery. Eur J Nutr. 2020;59:3183–90.
Allocca M, Furfaro F, Fiorino G, Peyrin-Biroulet L, Danese S. Point-of-care ultrasound in inflammatory bowel disease. J Crohns Colitis. 2021;15:143–51.
Filgotinib. Summary of Product Characteristics 2022.
Feagan BG, Danese S, Loftus EV Jr, et al. Filgotinib as induction and maintenance therapy for ulcerative colitis (SELECTION): a phase 2b/3 double-blind, randomised, placebo-controlled trial. Lancet. 2021;397:2372–84.
Danese S, Hibi T, Ritter TE, et al. Rapidity of symptom improvements during filgotinib induction therapy in patients with Ulcerative Colitis: Post hoc analysis of the phase 2b/3 SELECTION study. ECCO 2021. OP37.
Schreiber S, Feagan B, Peyrin-Biroulet L, et al. Exploring disease control by combining clinical, biological, and health-related quality of life remission with endoscopic improvements among Ulcerative Colitis patients treated with filgotinib: A post-hoc analysis from the SELECTION trial. ECCO 2022. OP07.
Dubinsky MC, Watanabe K, Molander P, et al. Ulcerative colitis narrative global survey findings: The impact of living with ulcerative colitis—patients' and physicians' view. Inflamm Bowel Dis. 2021;27:1745–55.
Feagan B, Matsuoka K, Rogler G, et al. Efficacy and safety outcomes of long-term treatment with filgotinib 200 mg among patients with Ulcerative Colitis: An interim analysis of SELECTIONLTE. ECCO 2022. P491.
Schreiber S, Loftus EV Jr, Maaser C, et al. Efficacy and safety of filgotinib in patients with Ulcerative Colitis stratified by age: Post hoc analysis of the phase 2b/3 SELECTION and SELECTIONLTE studies. ECCO 2022. DOP37.
Zammarchi I, Lanzarotto F, Cannatelli R, et al. Elderly-onset vs adult-onset ulcerative colitis: a different natural history? BMC Gastroenterol. 2020;20:147.
Healthcare professionals should report adverse events to Galapagos by emailing This email address is being protected from spambots. You need JavaScript enabled to view it.. 
This promotional material has been organised and funded by Galapagos.
GL-IBD-FIL-202203-00013 | March 2022