59th ECCO Educational Workshop Montevideo, Uruguay
Paulo Gustavo Kotze, EduCom Member
October 9, 2018
The 59th ECCO Educational Workshop was held in Montevideo, Uruguay, on October 9, 2018. The workshop was a pre-congress course during the national Uruguayan congress of gastroenterology (Gastroendo 2018), at the Radisson Hotel in downtown Montevideo.
ECCO was represented by the Governing Board member Julián Panés (Spain), former President of ECCO, and Paulo Gustavo Kotze (Brazil), representing ECCO EduCom. Local organisation was in the hands of Beatriz Iade, Cristina Dacoll and Carla Bianchi, local experts in Inflammatory Bowel Disease from Uruguay, with full support from the National Uruguayan Society of Gastroenterology.
A total of 72 attendees were present. As usual, the programme comprised case scenarios recently updated by EduCom Members, with interface with the most recent ECCO Guidelines in each specific challenging situation that physicians can face in daily practice in IBD. For this meeting, each case was presented by a local junior physician, with multidisciplinary panelists for each session, under the coordination of the ECCO Officers.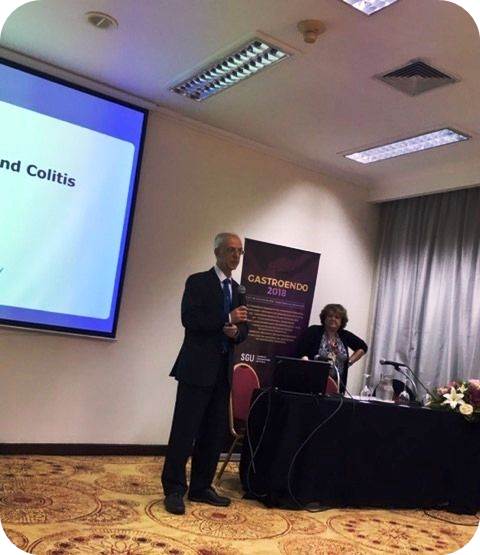 59th ECCO Educational Workshop in Montevideo © ECCO
The specific cases chosen for this workshop were:
Acute Severe Colitis
Management of moderate refractory Ulcerative Colitis
New-onset ileal Crohn's Disease
Perianal fistulising Crohn's Disease
Optimising therapy in IBD
Stopping therapy in IBD (exit strategies)
Complications of immunosuppressants and biological therapy in IBD
The main highlight of the meeting was the comprehensive multidisciplinary discussion during the case presentations, with the participation of pathologists, gastroenterologists, colorectal surgeons, endoscopists and specialists in infectious diseases. The ECCO Officers circulated around the room with microphones, challenging the audience during the presentations, focussing on the local management of IBD and emphasising the main messages of the current guidelines. The completely informal and interactive discussion allowed all attendees to voice their opinions without difficulty, which represented a key feature of this workshop.
ECCO would like to acknowledge the dedication of the local organisers as well as the local Uruguayan sponsors in making this Latin American workshop feasible. Uruguay was the fourth Latin American country to host an ECCO Workshop, after Brazil, Colombia and Argentina. ECCO is consolidating its role as a global organisation that aims to foster education and disseminate knowledge in IBD around the world.
See you all again in Latin America in 2019 for another ECCO Workshop, which this time will be held in Chile.
| | | |
| --- | --- | --- |
| 59th ECCO Educational Workshop in Montevideo © ECCO | | 59th ECCO Educational Workshop in Montevideo © ECCO |
| | | |