Report on the 4th D-ECCO Workshop at ECCO'19
Dearbháile O'Hanlon, D-ECCO Member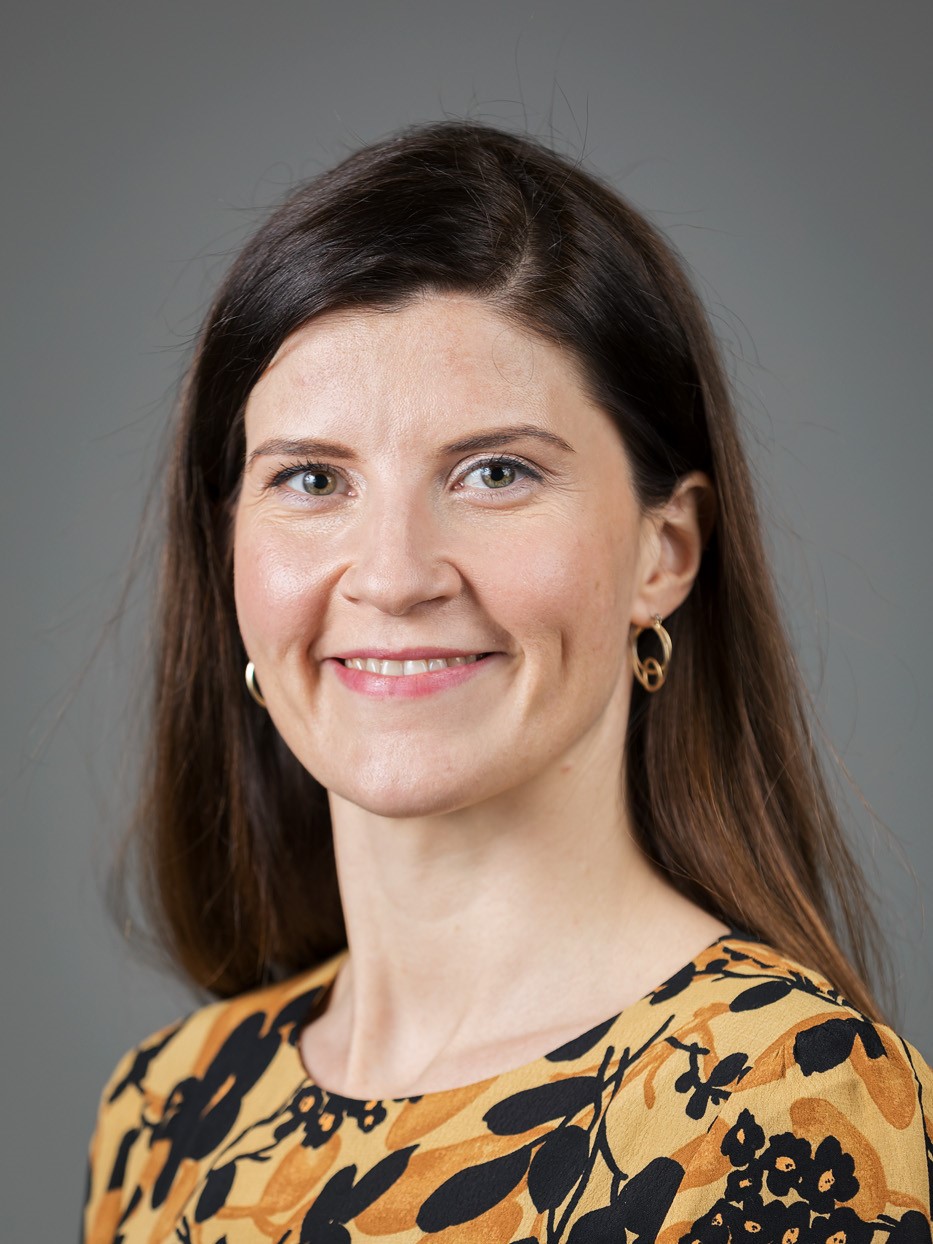 Dearbháile
O'Hanlon

© ECCO
As a new member of the D-ECCO Committee it is a pleasure to review the 4th D-ECCO Workshop at the 14th Congress of ECCO. This year we had an excellent attendance of 140 attendees from across the multidisciplinary areas, including dietitians, nurses, physicians and clinical researchers.
The programme was divided into three sessions.
Session 1: Science, Diet and IBD
Joana Torres delivered a presentation on breastfeeding and the risk of IBD. Breastfeeding is protective against Crohn's Disease (CD) and Ulcerative Colitis. The strongest reduction in risk was observed in infants fed for 12 months rather than 3–6 months, as is typical in developed countries.Thirty percent of bacteria in an infant's gut comes from breast milk. Differences between exclusively breast fed and non-exclusively breast fed infants in terms of the diversity and relative abundance of bacteria, particularly bifidobacteria, persisted after 6 months of life. Infancy is a critical period during which changes in the gut microbiome are most influential in the maturation of the immune system and could impact CD later in life.
Marjo Campmans-Kuijpers, the new D-ECCO Committee Chair, gave an excellent overview of diet and the microbiome in IBD. Her talk reminded us about the dysbiosis in IBD, with low species richness, less Firmicutes, more Bacteroidetes, high-density colonisation of adherent-invasive E. coli and less protective Bifidobacterium, Faecalibacterium and Lactobacillus. Future research is required to study how diet can affect the microbiome and whether personalised microbial therapy to help manage IBD may be possible.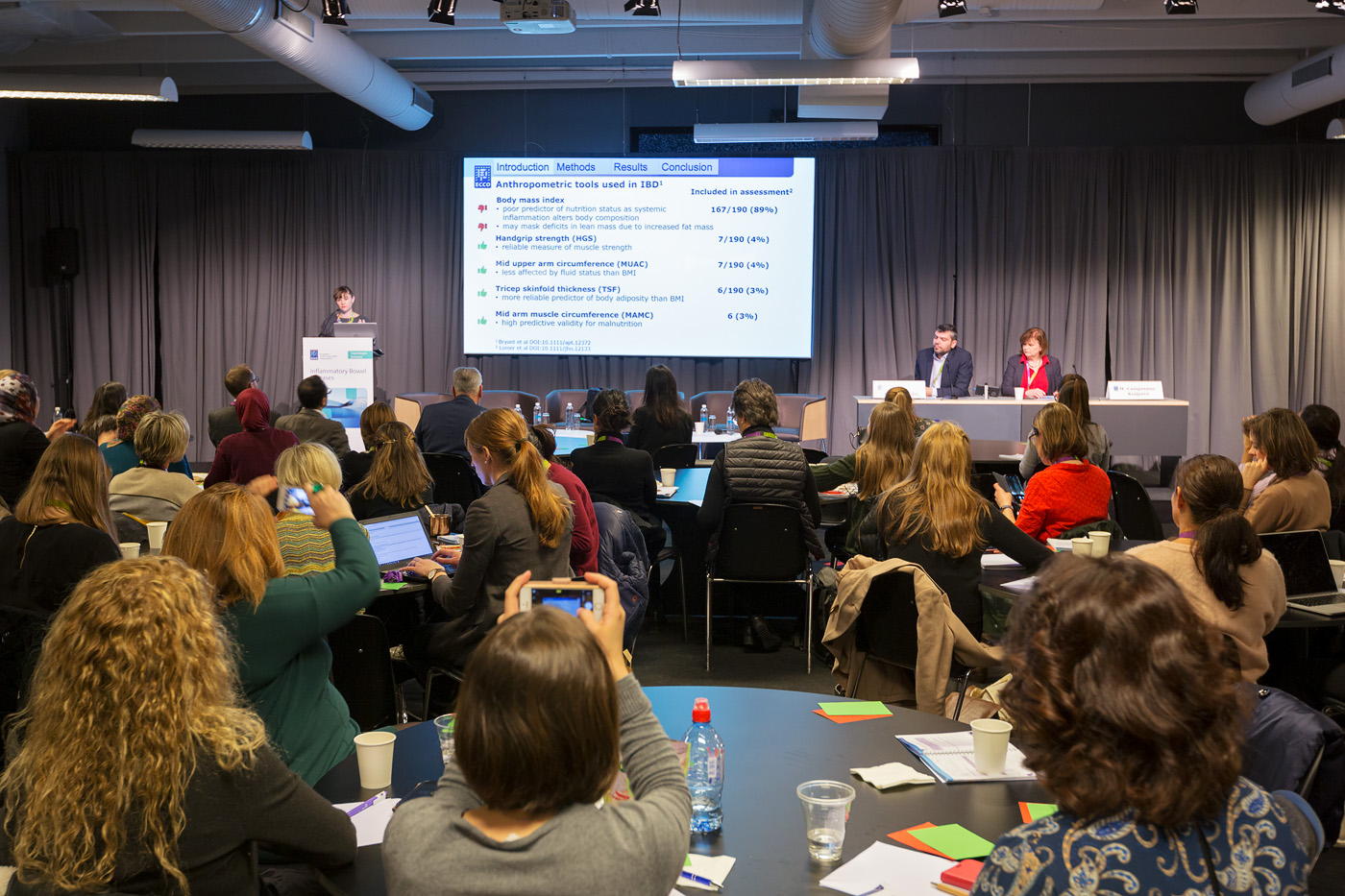 4th D-ECCO Workshop 2019
© ECCO
Dror Shouval discussed the immunological effects of nutritional interventions in IBD. He provided an overview of murine studies relating to: the impairment of barrier function by high-fat, high-sugar diets; short-chain fatty acid (SCFA) generation from bacterial fermentation of fibre; activation of aryl hydrocarbon receptors by cruciferous vegetables, with a resultant increase in anti-inflammatory effects in the gut; the impacts of a high-salt diet in impairing Treg cells and enhancing the generation of Th17 cells; and the effects of emulsifiers. Studies on the immune effects of formula for the treatment of CD showed conflicting effects on cytokines and changes in Treg cells. It was acknowledged that although this will be difficult to orchestrate, it is important that we work towards translating the research from murine studies to human studies on immune and microbiome profiles.
David Wilson taught us about growth and bone health in patients with IBD. Decreased height velocity in paediatrics has been reported before GI symptoms. It is important not to see surgery as a last resort for children whose height does not improve after 6–12 months of optimised medical and nutritional therapy. Bone mineral density is reduced in 12%–83% of children with IBD. It is essential to optimise this to avoid fractures in later life.
Session 2: Practical Clinical Nutrition in IBD
Konstantinos Gerasimidis, one of the outgoing D-ECCO Committee Members, discussed patients' and carers' perceptions about the role of diet in IBD. Patients with a positive experience of diet therapy will have more positive perceptions. Patients would like to get their dietary information from dietitians, nurses and gastroenterologists. Dietary beliefs can affect the quality of life of IBD patients and aggravate IBD-related disability; therefore, it is important to discuss diet as part of routine care. Better evidence-based training and research regarding the role of diet in IBD is essential.
D-ECCO founder and outgoing Committee Chair, Rotem Sigall-Boneh, provided an update entitled "Novel dietary treatments for IBD – how to advise the patient". The specific carbohydrate diet, the Crohn's Disease exclusion diet (CDED), CD-TREAT, vegetarian diet/semi-vegetarian diet, the Paleo diet and the Mediterranean diet were reviewed. All are based on unprocessed foods with evidence of varying quality, from RCTs in CDED and open label trial in CD-TREAT to no evidence at all for the vegetarian diet. All of the diets need further robust evidence to prove their efficacy and mechanisms, and health care professionals should be able to translate the evidence for patients.
Catherine Wall, D-ECCO Committee Member, and Kay Greveson, former N-ECCO Chair, discussed the importance of teamwork in a tandem talk entitled "The future IBD clinic – the role of dietitian and nurse in management of IBD patients". They discussed the need for specialist nursing and dietetic support for IBD patients and highlighted some examples of integrated multidisciplinary team-based services. Specialist training, knowing the scope of the role and putting together a strong business case are essential for integration of dietitians into the multidisciplinary team and provision of patients with appropriate specialist dietetic care plans.
Session 3: Abstracts and Panel Discussion
Catherine Wall was up again to present her abstract (P599), entitled "Development of an inflammatory bowel disease-specific nutrition screening tool (IBD-NST)". Standard malnutrition screening tools do not detect the nutrition risk associated with changing diets during flare-ups of IBD. The IBD-NST aims to capture this risk. The tool picked up 11 more patients at risk compared with the Malnutrition Universal Screening Tool (MUST) score alone and a correlation with the malnutrition risk identified by Subjective Global Assessment (SGA) was observed.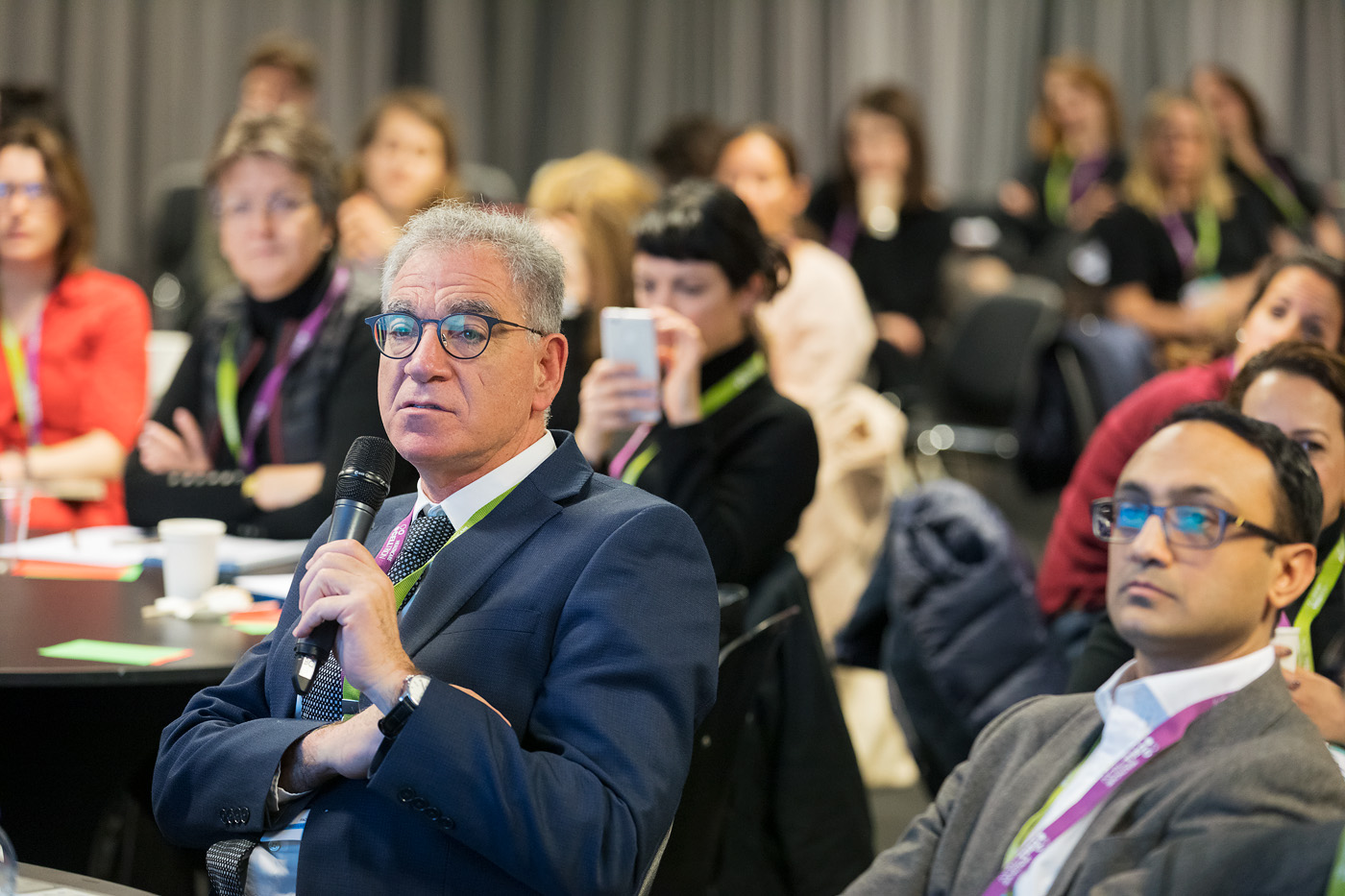 4th D-ECCO Workshop 2019

© ECCO



Sonia Facchin presented her abstract (P655): "Microencapsulated Sodium Butyrate significantly modifies the microbiota in patients with inflammatory bowel disease mimicking prebiotic activity and proving effects on the treatment of the disease." Short-term treatment with a microencapsulated form of sodium butyrate (Butyrose) did not result in any change in alpha diversity, but a significant change in beta diversity was observed, which was disease and disease activity dependent. A trend towards a reduction in faecal calprotectin in patients with CD was also observed. Discriminant analysis showed an enrichment of butyrogenic bacteria in CD patients and generic SCFA producers in UC patients, suggesting a potential prebiotic effect.
James Lindsay, Lisa Younge, Miranda Lomer, Arie Levine and Jackie Falconer were on the panel to discuss three case presentations:
Shameer Mehta presented a case study on the often tricky transition stage between paediatric and adult care, entitled "Nutritional factors in transitional IBD".
I was delighted to be asked to present a case on pre-operative nutritional optimisation in stricturing Crohn's Disease.
Finally, Richard Russell presented a fascinating and rare case regarding complications secondary to intravenous iron infusion in a paediatric IBD patient, which challenged both our panel and the audience.
Time and again at this workshop the importance of multidisciplinary team working was highlighted. Further robust high-quality nutritional research is needed to inform our clinical practice and improve patient outcomes. We look forward to presenting another challenging, forward thinking and clinically relevant workshop next year.